"Within days of feeding my babies with this stuff, we had multiple new leaves sprouting throughout the whole family" Danielle.N.
---
The indoor plant food elixir that gets your plants not just growing, but thriving. Each 1ml drop of Plant Runner is packed full of all the nutrients indoor plants crave. An ideal N:P:K ratio of 12:2:12 plus trace elements and seaweed, giving your plants essential nutrients every time you water, and so easy to use too! No complicated prep. Just drop & go!

"My plants love this soooo much! They have been a bit sad and neglected but not even a week since I gave the plant food and there's new growth on every single one of them. Yassss!"
A super concentrated, liquid super-food your plants literally drink up. Outdoors, plants can send their roots out to forage for the minerals they need. Indoors? They're stuck in a pot and need your help. Plant Runner to the rescue.

Nitrogen for foliage. Phosphorus for flowers and roots. Potassium for immunity - and it's almost completely odourless (unlike some too-stinky-for-indoor-use fertilisers we've tried).

Plant Runner is free of animal products, vegan friendly, and uses shore-collected seaweed.

"Finally I have found a natural plant food, which is easy to use, is not needed to be mixed in huge quantities and suitable for most plants. My plants are thriving!"
Easy peasy. Give the bottle a quick shake then squeeze the included dropper top and it'll suck up 1ml in to the pipette. Drop in 1ml per 1 litre of water, and that's it! You're ready to water as usual. No special prep. No mixing up powders, easy as. Just 1/2 teaspoon (1ml) per 1 litre. One 100ml bottle makes up to 100 litres!

"I've only recently started using plant runners indoor plant food but let me say; I'M OBSESSED! The packaging is super cute and easy to use and the directions are super easy, so far my plants are loving it."

"I have used the plant food on my plants (mainly ariods) and am seeing some nice strong new growth after a couple of weeks."
What matters in fertiliser?
It's all about that N:P:K ratio. N stands for Nitrogen. P for Phosphorus. And because P was taken, K is for Potassium. Those 3 are the macro nutrients plants need (macro is what they need in larger amounts, they need small amounts of micro nutrients too). The higher those numbers are in the ratio, the greater percentage of that nutrient is in the fertiliser. Examples might be 10:10:10, or 12:2:12, or 30:0:10. These are all different ratios of N:P:K designed for different purposes and plants.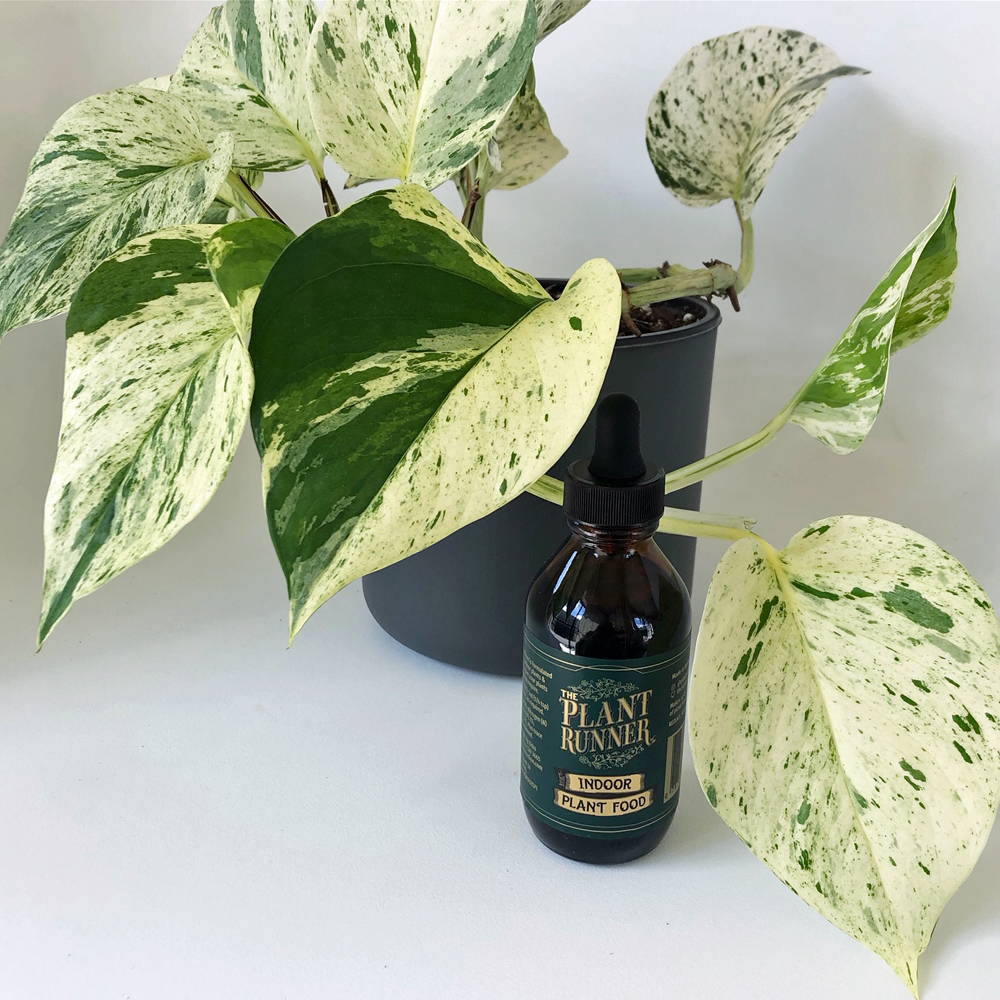 What do nitrogen, phosphorus
& potassium do for plants?
NITROGEN is all about that green. Foliage! This nutrient is a major component in chlorophyll, primarily responsible for leaf growth. Plants absorb more nitrogen than any.other.nutrient. Full stop.

PHOSPHORUS goes from roots to fruit with flowers in between. When buying fertiliser for fruiting and flowering plants like citrus, you'll find the number in the middle of the ratio will be higher.

POTASSIUM makes plants stronger. We think of it like an immune booster. It helps them fight off pests and diseases, as well as protecting against cold weather, low humidity and dryness. Helping plants build up reserves to get through the dormant period during winter also. It keeps the plant's functions performing their best. Potassium also impacts a plant's uptake of carbon dioxide.

Nutrients in Plant Runner
Typical Analysis:
Nitrogen: ​ (N) 12%
Phosphorus: (P) 2%
Potassium: ​ (K) 12%

Trace Elements:
(B) Boron
(Fe) Iron
(Mn) Manganese
(Zn) Zinc
(Cu) Copper
(Mo) Molybdenum
(Mg) Magnesium
(Ca) Calcium
Plus Seaweed